Artist
Cristina Lucas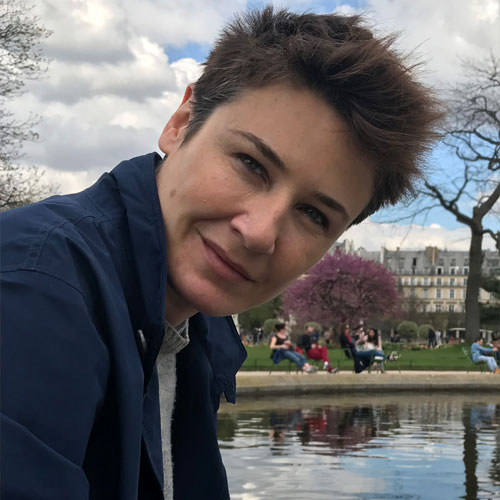 Cristina Lucas was born in Jaén, 1973. She studied at Complutense University of Madrid and the University of California Irvine, then was a resident at Rijksakademie and at ISCP, New York. She currently resides in Madrid. Using multimedia such as photography, video, installation, drawing, and performance, her work explores the possibility for different readings of history and offers better explanations of the present.
One piece focuses on the relationship between religion and art, with her as the artist speaking to three ministers, with light social satire interwoven into video showing how, even though the preachers are ignored by passers-by during Times Square rush hour, they continue to talk about the power and importance of art. With performances of her smashing a replica of Michelangelo's Moses statue with a hammer, urging viewers to uncover the secret to their own creation, and video of the goddess in Delacroix's "Liberty Leading the People" played by a half-naked young woman that ends tragically with her being beaten by the men, she raises the issue of gender discrimination in history and art history. "You Can Walk, Too" (2006), shown at the "Astonishing Reality" exhibit at the Museum of Contemporary Art, Tokyo in 2014, is a comical video of a village dog walking around town on its hind legs, which incorporates irony of women who force themselves to behave like men and toward men themselves. Lucas's thrilling and critical works have received wide acclaim and are featured at exhibits worldwide.
Lucas received international acclaim for "Pantone-500 + 2007", a two-dimensional world map tracing changes from the 5th century BC to the present, on collection at the Pompidou Centre in Paris. Her exhibit at Ueno Cultural Park Hakubutsukan-Dōbutsuen Station is also based on a map, showing the grand history of the human race that encompasses politics, social structure, and state power.
Major Solo Exhibits in Recent Years:

2008 Talk, Stedelijk Museum, Schiedam, Netherlands
2009 Light Years, Centro de Arte Dos de Mayo, Madrid, Spain
2014 Is Capital, Matadero Madrid, Spain
2016-17 Trading Transcendence, Grand Duke Jean Museum of Modern Art (Mudam), Luxembourg
2016-17 Global Edges, OK Center, Linz, Australia
2017 Stains in Silence, Sala Alcalá 31, Madrid, Spain
Major Group Exhibitions

2008 Sao Paulo Biennial, Sao Paulo, Brazil
2010 Liverpool Biennial, Liverpool, England
2011 Mercosur Biennial, Porto Alegre, Brazil
2018 Manifesta 12, Palermo, Italy
2018–19 Shanghai Biennial, Shanghai, China
2019 Ural Industrial Biennial, Ural Federal District, Russia
Her work is in public collections such as Luxembourg MUDAM, Center Pompidou, Paris, Van Abbemuseum, Eindhoven or Kiasma, Museum of Contemporary Art in Helsinki among others.