Event
UENOYES2019 "FLOATING NOMAD"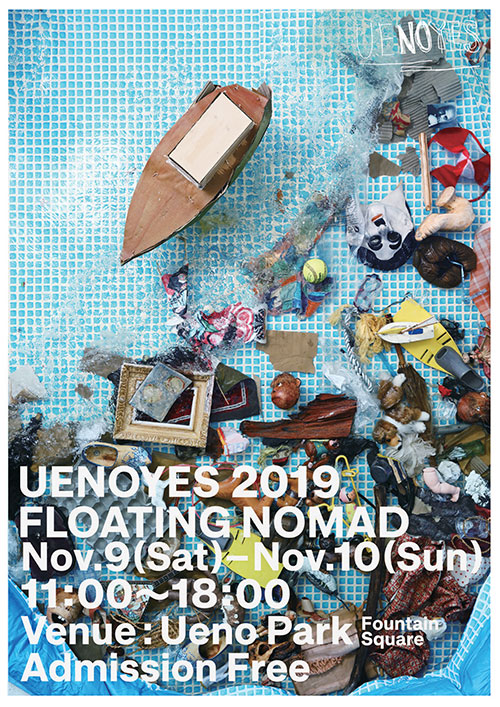 Special art event "UENOYES2019 'FLOATING NOMAD'" will be held at Ueno Park Fountain Square under the General Producer of Katsuhiko Hibino.
Underlined by the theme "FLOATING NOMAD", this inclusive art event is intended to become a place for interaction and learning in the open space of Ueno Park, where people from various countries and regions gather in various ways and gather as if they are nomadic people.
In this event, the "cardboard installation site", the landmark and workshop space, is being produced and installed by a hybrid team of DOOR Project students of Tokyo University of the Arts and the fashion private school "coconogacco" led by Yamagata. In addition, theme-based contents, such as, Kishin Shinoyama's photo exhibition "Silkroad" in which Photos from Nara, Beijing, Urumqi, Persepolis, Palmyra to the Turkey are featured, DOMMUNE UENOYES by the live streaming studio "DOMMUNE" is taking place only for two days, as well as photo exhibition by the French photographer Charles Freger will be deployed.
In particular, the unique latest collection of Yamagata, which is presented in a fashion show at the fountain pond, is one of the must-see highlights of the event.
Message from the General Producer, Hibino
We are people who all call the earth home.
People being able go on their own way without being bound,
that is "FLOATING NOMAD".
Why don't you join "UENOYES" and become a "FLOATING NOMAD"?
Date

November 9 (Sat), 10 (Sun), 2019
Time

11:00 to 18:00
*Some programs have different start time.
Venue

Ueno Park Fountain Square (Takenodai Square)
Admission free.
No prior application required.
Numbered tickets may issue in advance to some programs.
In case of rain or stormy weather, the event may be postponed or canceled.
In addition, the contents of the program may change due to circumstances.
Organizer

The Implementation Committee for New Concept "Ueno, a Global Capital of Culture"
Arts Council Tokyo (Tokyo Metropolitan Foundation for History and Culture)
Special coorperation

Louis Vuitton Japan K.K.
Cooperation

Rengo Co.,Ltd.
Pioneer DJ Corporation
*This project is supported by the Agency for Cultural Affairs Government of Japan in the fiscal year 2019.
"UENOYES2019" Childcare service information
Date and time

November 9 (Sat), 10 (Sun), 2019 11:00 to 18:00
Venue

Nursery room in Main Gate Plaza, Tokyo National Museum (13-9 Ueno Park, Taito-ku, Tokyo)
Age range

Infants (over 3 months)-Preschoolers
*Visitors of UENOYES and those who use cultural facilities in Ueno Park only.
Application

Free of charge, advance reservation required. Please apply by phone.
Reservation

Asuka Inc. TEL: 0120-165-115 (9:00 to 18:00, excluding weekends and holidays)
Main content artists
Main contents embodying the theme "FLOATING NOMAD"
"writtenafterwards" Fashion Show November 9 (Sat)17:00~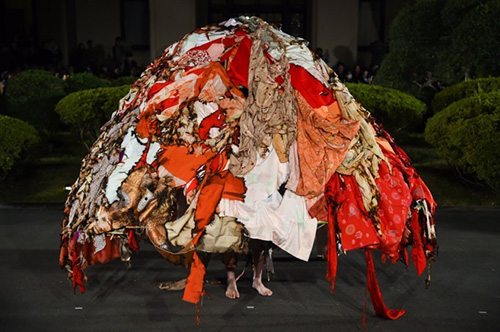 From "writtenafterwards" 2018 Spring/Summer Collection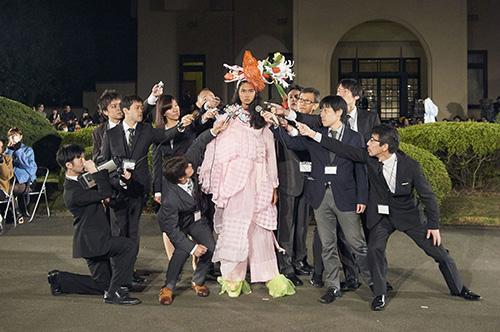 The label "writtenafterwards", which continues to announce the possibilities of fashion expression in various forms, holds the first fashion show in two years. The displayed collection will be the culmination of a trilogy based on the theme of "modern witches" that has been announced last year. At the fountain at Takenodai Square in Ueno Park, people in various outfits will appear as if they are "FLOATING NOMAD", unfolding an inclusive fashion show that embodies the theme.
*Depending on the congestion in the venue, admission may be restricted to ensure safety.
Under the general supervision of Katsuhiko Hibino, a giant object will be created live
Cardboard Installation Site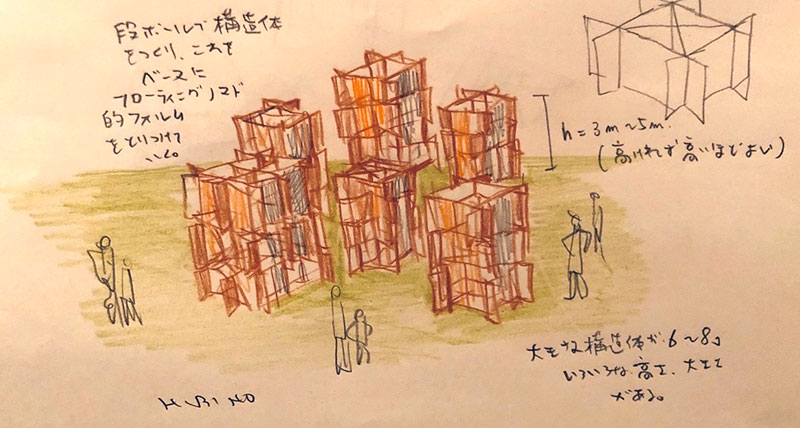 Image of the cardboard object site
Under the general supervision of Katsuhiko Hibino (UENOYES General Projector/contemporary artist), a hybrid team of DOOR Project(*) students of Tokyo University of the Arts and the fashion private school "coconogacco" led by Yamagata, present a live production of an art monument made of corrugated cardboard, symbolizing the theme of the event, "FLOATING NOMAD". The completed site will be a workshop venue and a resting place (oasis) for visitors.
*DOOR Project … Certified program "Diversity on the Arts Project" by the Tokyo University of the Arts
An upgraded version of last year's popular outdoor sketching event will be conducted
"coconogacco" Outdoor Workshop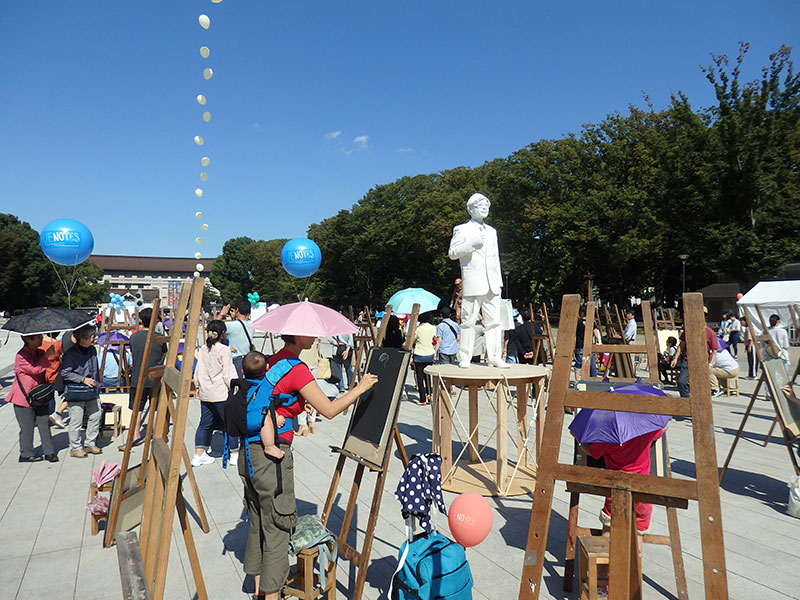 From the 2018 outdoor photo competition "Statue photo competition"
An open-air sketching event that won great popularity last year will be upgraded in collaboration with "coconogacco". Models such as street performers dressed like outdoor sculptures (statues) can be sketched with advice from "coconogacco" instructors and graduates and students of Tokyo University of the Arts.
Reservation is not required. Anyone, including children, can participate.
Special exhibition where the theme "FLOATING NOMAD" overlaps with the image of people on the trade route
Kishin Shinoyama "Silk Road" Photo Exhibition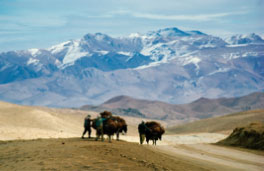 From "Silk Road" by Kishin Shinoyama
The "Silk Road" by photographer Kishin Shinoyama, published in 1980, is a large-scale project to capture the landscapes, customs, and real people of various parts of the Eurasian continent along the "Silk Road" that starts from Nara, Beijing, Urumqi, Persepolis, Palmyra to the Turkey. The photo book compiled in a total of eight editions was reorganized into one as a part of the Louis Vuitton's "Fashion Eye" collection last year and attracted attention. Selected prints will be displayed altogether in the "Ger" (Pao/nomadic tent) set up for this event.
"DOMMUNE" will livestream the event's special programs
DOMMUNE UENOYES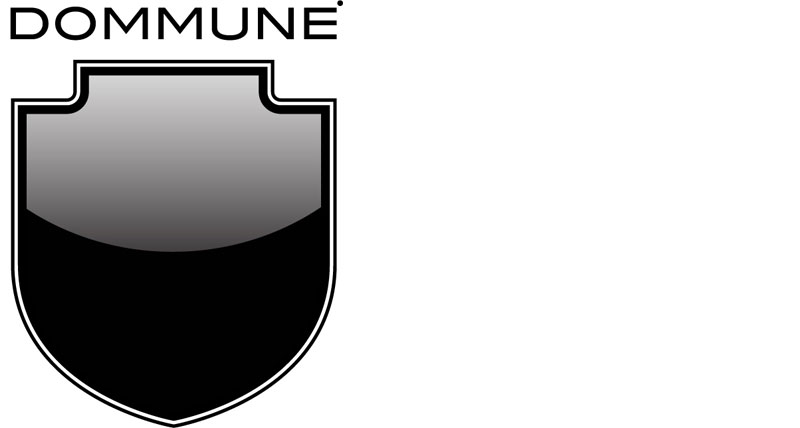 The live streaming studio "DOMMUNE" presided by Naohiro Ukawa (contemporary artist and video artist), which evolves as "SUPERDOMMUNE" with the redevelopment of Shibuya Ward, will appear at this event following the Setouchi International Art Festival. Gathering here for these two days, they will have a series of contents being presented. DOMMUNE UENOYES is also scheduled to stream its own special program.
Parplume Preparatory School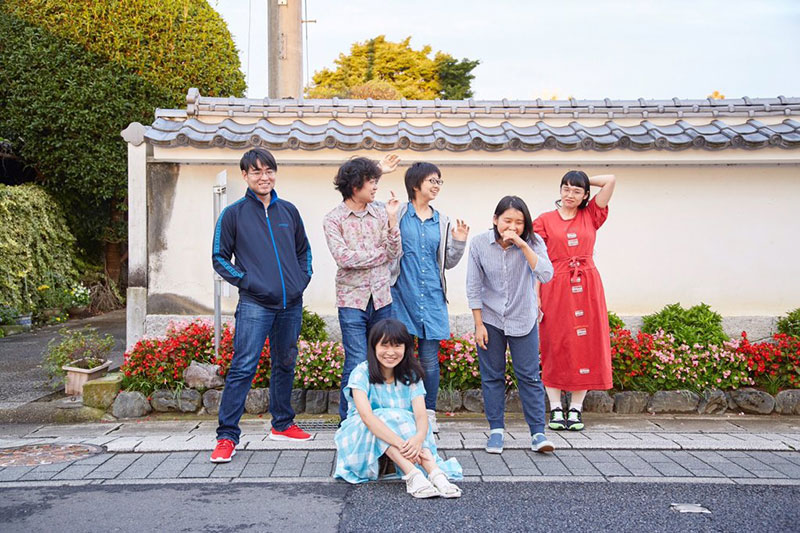 "Parplume" is an artist community led by artist Junichi Umezu. Demonstrations and talk events by the artists gathering at the Parplume "Preparatory School" will be held.
FLOATING NOMAD ANONYMOUS *November 10 (Sun) around 16:30~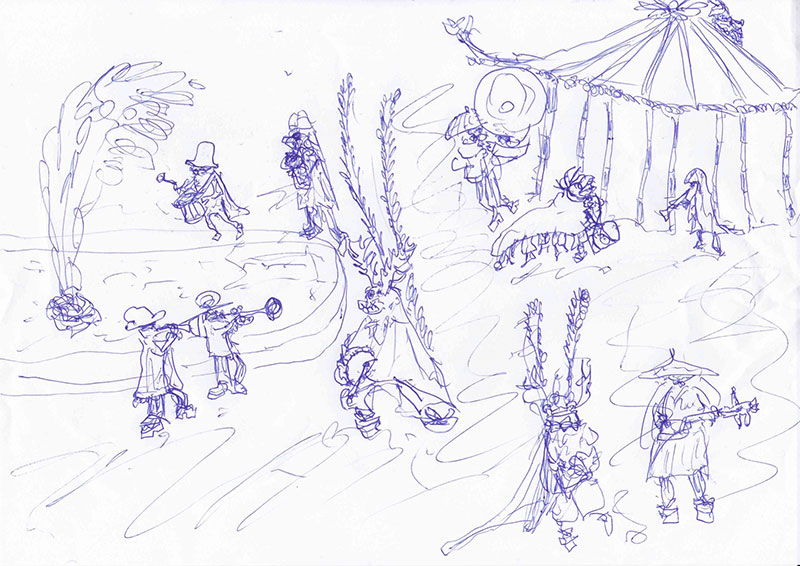 《 FLOATING NOMAD ANONYMOUS 》image
Hiroshi Suzuki (saxophone player / composer), a former leader of classical chindon punk performance group CHANCHIKITORNADE and currently active in Otomo Yoshihide Special Big Band, will offer an anonymous and chaotic performance mixing the images of a street musician, "goze" shrine maiden, Lion Dance, circus, chindon, samul nori, Vulcan Brass, Eastern European brass music, Central Asian sounds, and more, on the themes of fantasy, mirage and anonymity.
= FLOATING NOMAD ANONYMOUS Members =
 Choi JaeChol (Korean folk dance) / Chango (Korean Percussion)
 Tenzin Kunsang (Tibetan folk) / Dranyen
 Mashu Komazaki (Uzbek folk) / Dutar
 Asano5 / Khoomei
 Kosuke Tsuji (Medieval song) / Vocal
 Hiroshi Suzuki / Saxophone
 Shunsuke Okuchi / Accordion
 Shutoku Sato / Trumpet
 Masanori Homma / Tuba
 Takefumi Kobayashi / Percussion
Charles Fréger "Parade" Photo Exhibition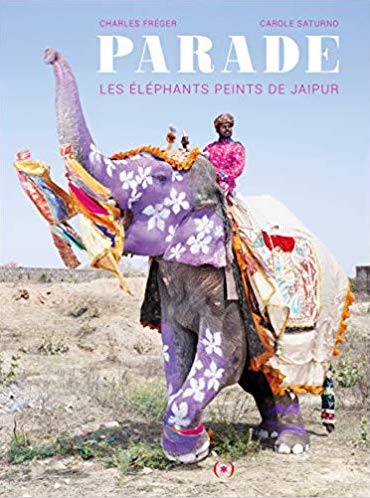 Photographer Charles Freger, whose "YÔKAÏNOSHIMA" exhibition (2016/ Ginza Maison Hermès Forum),  capturing the appearance of masked gods and demons unique to Japan, attracted much attention.His photo exhibition featuring elaborately decorated elephants from the Elephant Festival in Jaipur, North India, presented for the first time in Japan.
Seiran Tsuno and Bethel's Ger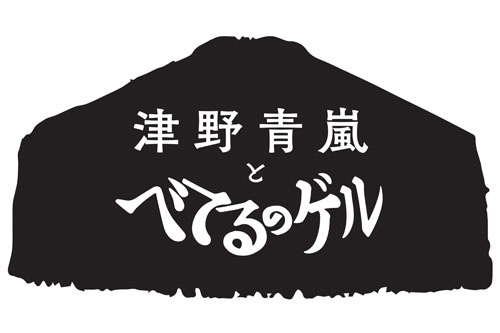 After graduating from the National College of Nursing, Seiran Tsuno worked at a psychiatric hospital, before studying at "coconogacco", a fashion private school led by Yamagata. Selected as a fashion designer finalist at Europe's largest fashion competition ITS, she started working from this fall at "Bethel House" (Urakawacho, Hokkaido), a base of the program of assessment and rehabilitation for those who have mental disorder and their family (*). The latest report of the program will be exhibited from a cross-disciplinary approach.
*Research and practice that emphasizes self-help and autonomy (self-treatment and self-governance) for people with mental disorders such as schizophrenia, born from the accumulation of life experiences of the patients and their families.
Silk Road Bunko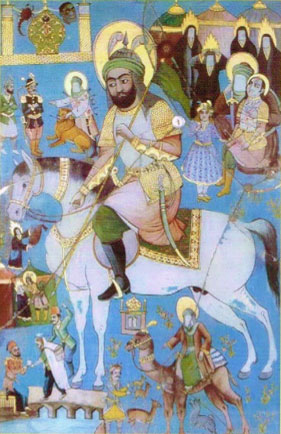 This year, "Silk Road Bunko" was established at "PAO COMPOUND" (Higashi-Nakano) , a nomadic culture center produced by Takuji Yasunaka. It is the creation of a place where prominent Silk Road researchers from all over the world can gather while preventing the dispersion of the collections and materials that are the foundations of their achievements, simultaneously gathering wider populace interested in the Silk Road. In the "Ger" (Pao/ nomadic tent), Silk Road artifacts and visual materials will be displayed and talks from Takuji Yasunaka (Director, Silk Road Bunko), Asian culture researcher Kosaku Maeda (Visiting Professor, Tokyo University of the Arts), and cultural historians and art historian Itaru Matsueda (Professor, Faculty of Expression, Wako University) will also be held.
Talk show
「FLOATING NOMAD Cultural diversity as seen from the sea route」
Yousuke Kaifu
(Head of the "Holistic Reenactment Project of the Voyage 30000 years ago"
Head of the Division of Human Evolution,Department of Anthropology, National Museum of Nature and Science, Tokyo)
× Katsuhiko Hibino
(UENOYES General Producer/contemporary artist)
× and Yoshikazu Yamagata
(Director of UENOYES2019 "FLOATING NOMAD" / Fashion Designer)
Numbered tickets may issue advance to some programs.