Artist
Fernando Sánchez Castillo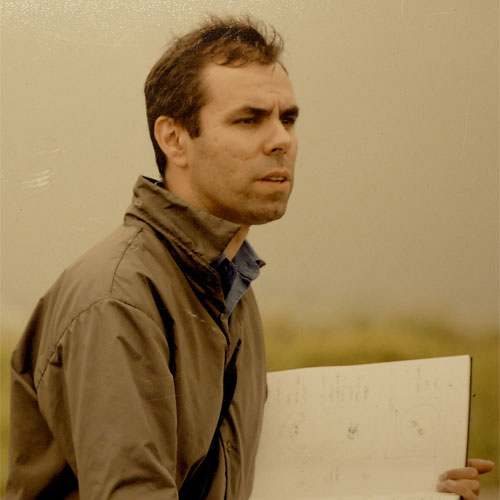 Fernando Sánchez Castillo was born in Madrid in 1970, he currently resides in Madrid. He studied fine arts at Complutense University of Madrid, philosophy at Autonomous University of Madrid, and also studied at the École nationale supérieure des Beaux-Arts in Paris. After a residency at Rijksakadamie. He is part of Research Team of United Nations Geneve, PIMPA (Memory , Politics and Art Practices). Spending his childhood under the Franco regime, Castillo has a keen interest in social and historical events, analyzing factors related to authority and representation and reviewing historical discourse from different angles, and expressing this through sculpture, painting, and video.
"Architecture for Horses" (2002), in which a gentleman in a suit atop a white horse gracefully strutting about the university building, was part of the Astonishingly Real exhibit at the Museum of Contemporary Art in Tokyo and even became the poster for the event, and shows how his university was designed under the Franco regime for riot squads to be able to enter on horseback to quell student demonstrations. "Pegasus Dance" (2007), in which water cannon trucks normally used to break up demonstrators perform a magnificent dance while spouting water, has also been shown at the museum as part of a group exhibition. A precision robot made for handling hazardous materials draws an abstract painting, like the marvelous images created in Marcel Duchamp's "Ready Made", expand playfully and artistically on machines and devices needed only in serious social situations to bring about a change in values and to expand the realm of art. He is working on the "Minor Hero" series, creating figures of a young man standing before tanks at Tiananmen Square in China using a 3D printer, another piece themed on revolution and resistance to oppression. Monuments, records, public places, and traditions serve as tools for revealing the recent past. Scrutinizing the relationship between art and authority calls to memory historical groups and examines the structure of powers and symbols that still dominate society.
Major Solo Exhibitions in Recent Years

2010 Parti de la Peur, Centre d'Art contemporain, Geneva, Switzerland
2015 Beyond, CA2M Centro de Arte Dos Mayo, Madrid, Spain
2016 Today Was Another Sunny Day, Sala de Arte Público Siqueiros, Mexico City, Mexico
2016-17 Introduction to the Stone of Madness, Design Museum Den Bosch, Hertogenbosch, Holland, etc.
Major Group Exhibitions

2010 Istanbul Biennial, Istanbul, Turkey
2013 Goteborg Biennial, Goteborg, Sweden
2016 Manifesta11, Zurich, Switzerland
2018 Riga Biennial, Riga, Latvia
2018 The Jumble of Growth, la Galleria Nazionale d'Arte Moderna, Roma, Italy
2018-19 Shanghai Biennial, Shanghai, China
2020 Costa Rica Biennial
His work is included in public collections at the Centre Pompidou, Museo Nacional Centro de Arte Reina Sofía, Grand Duke Jean Museum of Modern Art (MUDAM), the Centraal Museum in Utrecht, and more.